The New York City comic book convention war between Wizard and Reed Exhibitions continues.
There are great summaries and synopses at Bleeding Cool, The Beat and Robot 6 [at Comic Book Resources].
While there has been mention of Wizard's excellent mainstream news coverage, I saw something in Time Out New York which was not covered. For those of you who don't live in the Tri-State area, Time Out New York is a pretty popular local magazine, right behind New York and The New Yorker. Check it out below, it's the first blurb in the bottom section - "Best of the fests" with the photo of William Shatner.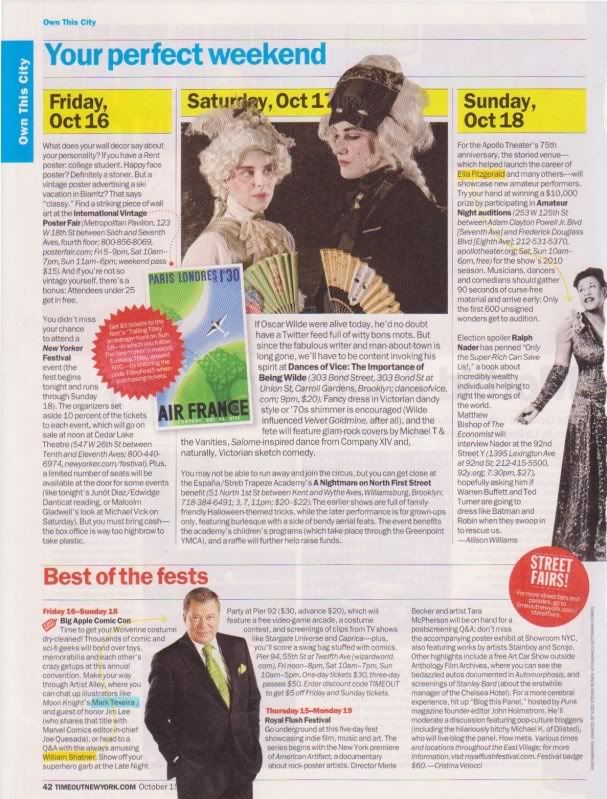 So what's so strange or baffling about this blurb, Mark Texeira [who is currently drawing random stuff for Marvel Comics] is mentioned FIRST!!!
BTW, the blue highlight is mine and not the magazine's. The yellow highlight and arrow are the magazine's.
For those of you in the media business, sections like these are often rewritten versions of press releases so I'm guessing that the Big Apple Comic Con promoted Mark Texeira. And if you look at the Big Apple Comic Con guest list here, he's listed as a "Special Guest" in the top section ahead of sports legends Yogi Berra and Joe Frazier, top-selling comic book artist Jim Cheung, and pop culture icons as Linda Hamilton and Adam West.
I love Mark Texeira's work and think he's one of the great underappreciated comic book artist, but there is no way he should get first billing before guests of honors Jim Lee [the most popular comic book today] and Joe Quesada [the E-I-C of Marvel Comics] or William Shatner in the blurb.
So why was he getting such attention??!!? I'm guessing because the spelling of his name is close to ubër-popular Yankees first baseman Mark Teixeira, and that Big Apple was hoping there would be some confusion among the general reading public.

When I get a chance, I'm going to elaborate further on the whole Con War and how I think it will be good thing for the general convention goer.

Talk to you later.

-Chris